Get in touch to learn more about the Professional Leadership Institute.
Experience how PLI can keep your team learning
Everything rises and falls on leadership. Your company will win based on how many leaders you have in the right seats, doing the right things.
Most of us have never been trained in the basic skills required for any organization to be a success.. The Professional Leadership Institute specializes in skills that range from hiring and onboarding,, to coaching, delegating, having tough conversations, and everything in between.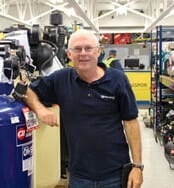 Our culture has taken major steps forward this year with Trevor's help. He is funny, relatable, and his tools are very very practical, and have helped us focus and upgrade our teams throughout our retail network. Trevor recently spoke to an employee group, and one person remarked, "I could listen to Trevor all day." We would highly recommend him.