About Noodles & Company
As Aaron Kennedy walked down Hudson Street near his home in New York's Greenwich Village, the pleasure of dining at a Thai noodle shop inspired the notion of opening a restaurant that offered noodle dishes from all over Asia. The entrepreneurial spirit struck like a lightning bolt as Kennedy expanded the idea, conceptualizing an international noodle shop that offered noodle and pasta dishes based on cuisines from around the world. Contemplating the idea further, Kennedy recognized that noodles are familiar comfort food and common to most cultures; a global noodle shop would be original and have universal appeal. Thus Noodles & Company was conceptualized at that moment.
With 10 years of experience in marketing from the Pepsi Company, Kennedy pursued his business idea. At 33 years old, Kennedy searched for recipes from cuisines around the world before meeting chef Ross Kamens in 1994 making his first hire for the new business. With Kamens onboard, Kennedy partnered with COO Joe Serafin to cook and test recipes. In 1995, raised $72,000 in personal funds and $200,000 in investments from 24 friends and family members launching the first Noodles & Company in October of 1995 in a neighbourhood of Denver, Colorado.
This location was known to be an upscale shopping district that attracted educated, active, health-conscious consumers, with disposable income. The winning strategy consisted of nine noodle dishes, four salads, and two soup flavours. With a strong price point, Noodles & Company offered a bowl of noodles for under $5.00 and a chicken or beef option for an additional $1.00. The 2,500-square-foot space provided seating for 50 customers in a plain setting. Food was prepared in advance and kept warm.
Industry
Noodles & Company is considered to be a fast-casual restaurant, which is good news considering fast casual has been the growth darling of the restaurant industry for the last 20 years. While it still accounts for less than 10% of the total market, the number and diversity of fast-casual restaurants have been exploding across the country, with an astounding growth of over 500% since 1999.
Fast-casual has stepped into and dominated the restaurant market through the gap of higher quality, imaginative cuisine served to a population on the move. The sector is still evolving and expanding at a rapid rate providing tremendous opportunity for the interested entrepreneur. The restaurant industry as a whole is a giant, according to the National Restaurant Association, Sales in 2016 are expected to exceed $780 billion dollars, marking the seventh consecutive year of growth.
Fast-casual generally targets the business lunch crowd. The consumer profile is married, working and between the ages of 35 and 45. These consumers are usually looking for healthier options, and 66% of recently surveyed reported that they are eating more ethnic cuisines than ever before. With this size of the market seemingly fitting the demographic that Noodles & Company cater to, it is no wonder that Kennedy's enterprise is as successful as it is serving up ethnic cuisine to members of the community with different backgrounds.
Noodles & Company Expansion Plans
Noodles & Company generated $100,000 in revenues in 1995 from its first store. Lunch comprised 45 percent of sales while dinner accounted for 55 percent of sales. With child-friendly food in the form of Wisconsin Macaroni and Cheese, the restaurant attracted families in the evening and experienced stronger business for dinner than comparable quick-casual restaurants dominating 32 percent of total sales for this market.
Though the Cherry Creek restaurant needed improvement, Kennedy made the decision to open a second store in an entirely different market, near the University of Wisconsin in Madison. Kennedy's friend Tom Weigard, a real estate developer and owner of a Madison wine bar, joined the company at this time helping Kennedy to open the Madison store in March 1996 with funds from additional private investment.
Pivoting the Business
The course of the company's development took a dramatic turn after a negative review of the restaurant appeared in the Wisconsin State Journal that April. The review deterred patronage of the shop and two months later, the sales of Noodles & Company were only high enough to cover labour and food costs. Kennedy, Kamens, Weigard, and a team of consultants travelled to Madison to evaluate and reshape the concept.
As part of their research, the group visited a handful of noodle shops, sampling various dishes and observing the food preparation process. Upon arrival at the Madison store, they found the atmosphere sterile and the pricing too low. Worse, the food proved was not up to the quality of their first store, just as the restaurant review stated.
While the team discussed a plan of action, Kennedy listed fifteen problems and the steps the company would take to resolve them. Kennedy hired two new managers, one with experience in fast food procedures and one with experience in fine dining. Kamens revamped the menu and reformulated recipes sourcing new food sources and finding a new method of serving noodles in order to ensure that they would not be overcooked when they made it to the customer's plate. With all problems seemingly solved, the restaurant became profitable again.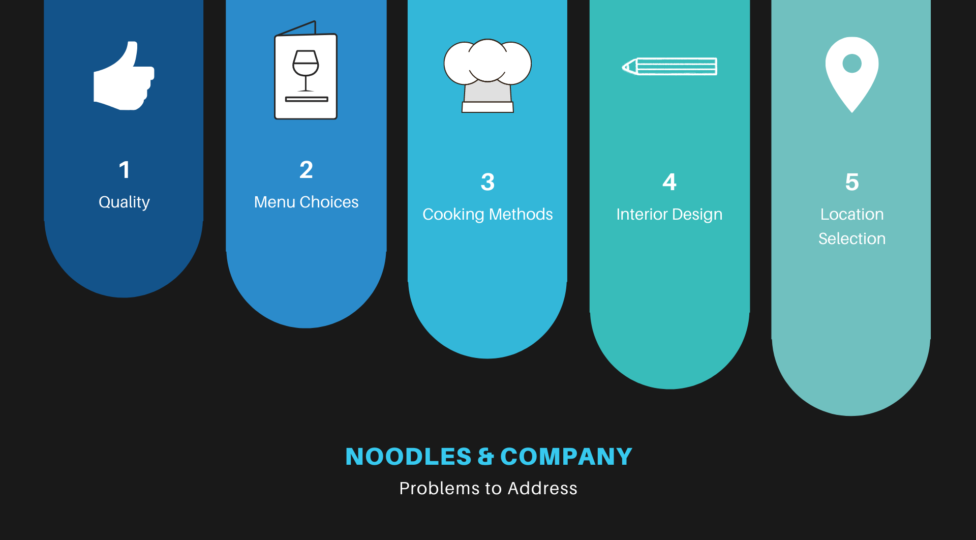 Noodles & Company Brand Concept
Noodles & Company refined its brand concept further by hiring interior designers, graphic designers, and advertising professionals to create an urban look for the brand. The cost for opening a store ranged from $250,000 to $350,000 depending on seating, so it became apparent to the company that making sure the space looked warm and inviting was key to the businesses' success.
The company preferred corner locations with natural light and traffic visibility. Cooperation with other foodservice companies created dining destinations where the restaurants grouped together in a commercial district. Noodles & Company sought locations in downtown areas or in neighbourhoods with a dense mix of residential housing and white-collar office buildings. The company defined its target market to account for the level of education, population density, family size, and age of the population.
Looking Ahead
With a polished brand concept, the company raised $1 million in 1998 and $3.2 million in 1999, for a total of $5 million in private investment funds since the company's inception. In 1998, Noodles & Company opened stores in Boulder and Denver putting the total number of stores up to five.
Fast forward to 2020 and you will find that Noodles & Company now operates and franchises more than 480 quick-casual restaurants in about 30 states. Its restaurant's feature menu items range in style from American to Asian to the Mediterranean, including noodle and vegetable bowls, soups, and green salads with pasta. Kennedy continued to own the company with a group of private investors until the company went public in 2013, but now, most of Noodles & Company's eateries are company-owned.