Modern businesses insights still hold one adage true – the customer is always right. However, over the years, how companies engage with their customers has evolved. Research from some of the biggest consulting firms show that customer satisfaction impacts company performance. Add in evolving consumer behaviours accelerated by the digital economy, businesses need to reassess how they structure, operate, and deliver customer service. Many business leaders believe and preach customer service as their competitive advantage. The late founder of Zappos, Tony Hsieh, built his whole business around delivering amazing customer services in addition to shoes. Jeff Bezos is known for being customer-obsessed. Both companies are great case studies for how providing exceptional customer service is a winning strategy. Below are four quintessential elements that underpin and help deliver this winning strategy.
Key Takeaways
Alignment across all business functions is key to delivering the quintessential elements of customer service. Your tone of your customer service team should reflect how your CEO, marketing, and sales team sound.
Invest in understanding the customer journey in order to appropriately build your business and operating model around their experience.
Leverage technology tools to help bring alignment and create a feedback loop.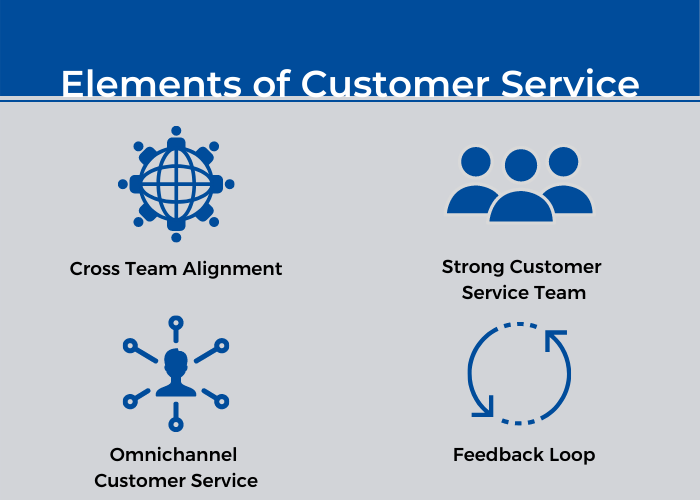 1. Align your business around the customer
Being a customer-centric organization is quintessential to differentiating your company from your competition. Today, most products have been commoditized. Something unique today can be easily replicated tomorrow. Providing great customer service can be a company's competitive advantage. Start-ups and silicon valley technology companies were some of the early champions of taking a complete customer approach in designing their products. They did this by constantly talking to their customers to understand what they want.
For businesses to become customer-centric, they need to align all their functions around the customer. To do this, they must groom their leaders at all levels to put their customers at the center of their work. Build your business unit strategy and department objectives around your customer.
For example, traditional customer service call centers view their operations through time-driven metrics. This includes time to close a ticket and turnover. While these are important operational measures, they do not align with the customers. Namely, there is no point in closing a customer ticket within a minute if it doesn't actually solve the customer's problem.
Instead, set the objective to align with customer satisfaction. Use metrics like the Net Promoter Score as the measure of success. Additionally, ensure that the organization understands the customers' journey. Taking everyone through the customer experience not only surfaces where the key touchpoints are, it also provides a view for how every function of the organization can engage and contribute to the customer experience. By understanding their impact, teams will be able to better serve the customers.
2. Build your customer service team
Your customer service team is your first line of defense for dealing with customer questions, comments, and complaints. Having the right people on this team is quintessential to driving customer retention and customer success. Winning new customers can help grow business. However, keeping an existing customer is actually cheaper in the long run. Thus, having a strong customer service team that can convert a non-believer into a brand advocate is imperative to driving healthy profitability in the long run.
Quintessential traits of a great customer service staff are someone who is confident, empathetic, listens intently, adept in demonstrating they understand, and is thick skinned. Additionally, your customer service team should bring an experience that reflects how the CEO, sales team, and marketing speak about the product. This comes from having strong alignment across all functions in the organization. It also comes from investing into your customer service staff. Lastly, rethink the roles that talk to your customers. For example, having a Customer Success Manager can help bridge key gaps between the customer and the key groups. They help facilitate conversations between the customer and product and champion the customer's needs throughout their journey.
3. Develop an omnichannel strategy
The modern consumer can make a purchase online, through their phone, or in-store, all depending on what is most convenient. The same should apply to how your consumers want to engage you are your company's customer service. The old school thinking of customer service meant a central number or online form that customers fill out. From there, they wait for a customer service representative to get back to them. In the modern world, consumers want to engage with your company when they want and how they want. This means offering customers different ways to engage with customer service.
From self-serve tools to online chat, giving customers a variety of options to engage with your company is quintessential to enhancing the overall customer experience. In addition to providing convenience for your customers, it will likely lead to you hearing from customers you would not otherwise hear from. This will only give you better insights on what your customers wants and ways to improve your products and services.
4. Close the loop
The most important step in building proper customer service is to ensure you close the feedback loop. Through your systems, collect as much data about your customer as possible. Unleash a team of your best consultants, data analysts, or data scientists so you can gain insights on your customers.  Share this information with all your team members. These insights will help inform key business decisions, ensuring your work always stays close to what your clients want.
Quintessential tools for great customer service
Customer service chat capabilities – there are lots of preconfigured solutions to install customer service chat capabilities into your website. Software such as Intercom allow you to plug in a chat function into your website, giving your customers another channel to reach into your organization.
Integration with your CRM – bridging your customer service ticketing system with your overarching customer relationship management system will help give you a full view of your customers. This becomes quintessential if your organization has an operating model that leverages Customer Success Managers that serve as advocates for customers within your organization.
Related Readings
Getting People Right (GPR) is an educational website providing professionals from all types of businesses with practical education in entrepreneurial leadership. To keep evolving your leadership toolkit, additional GPR resources below will be useful: