What is an Associate in the World of Business?
When it comes to describing job positions based on titles, an associate refers to a position with the basic levels of an organization. This part of the job title generally means that an employer is looking for a young professional, without much previous experience. Someone with less than a couple of years in the working field, or maybe just an internship under their belt. 
While it tends to have more requirements than just an entry-level position, it does vary by company. There's also no set standard for it, as some employers will use the term interchangeably with "entry-level". For example, sales positions at retail stores don't tend to require more than a high school diploma, which would constitute entry-level. Even with that, the position title tends to have the term "associate" included in it. 
As mentioned, associate positions would fall under the basic level grouping. It generally requires 0-3 years experience in the position or the field from previous jobs, or equivalent education. Specific schooling doesn't tend to be mandatory unless referring to a very niche industry such as the sciences. Pay tends to be minimum wage or a small percentage above that.
What is Seniority Level, and Where Does an Associate Fall?
When it comes to job positions, each title carries different weight depending on their seniority level within the industry. In this context, it would mean how long someone has been in their specific field of employment. It would normally also include their applicable skills and education experience.
This ranking, which is established by the company HR department, is used to standardize job descriptions. It also helps clarify a variety of other position-related aspects such as compensation and benefits. Job expectations, experience, and education required, also would fall under this. 
Still a little confused? Below is a graph showing where each job title commonly found at different companies would fall. To help understand the background of each title, the graph reflects levels based on work and education experience.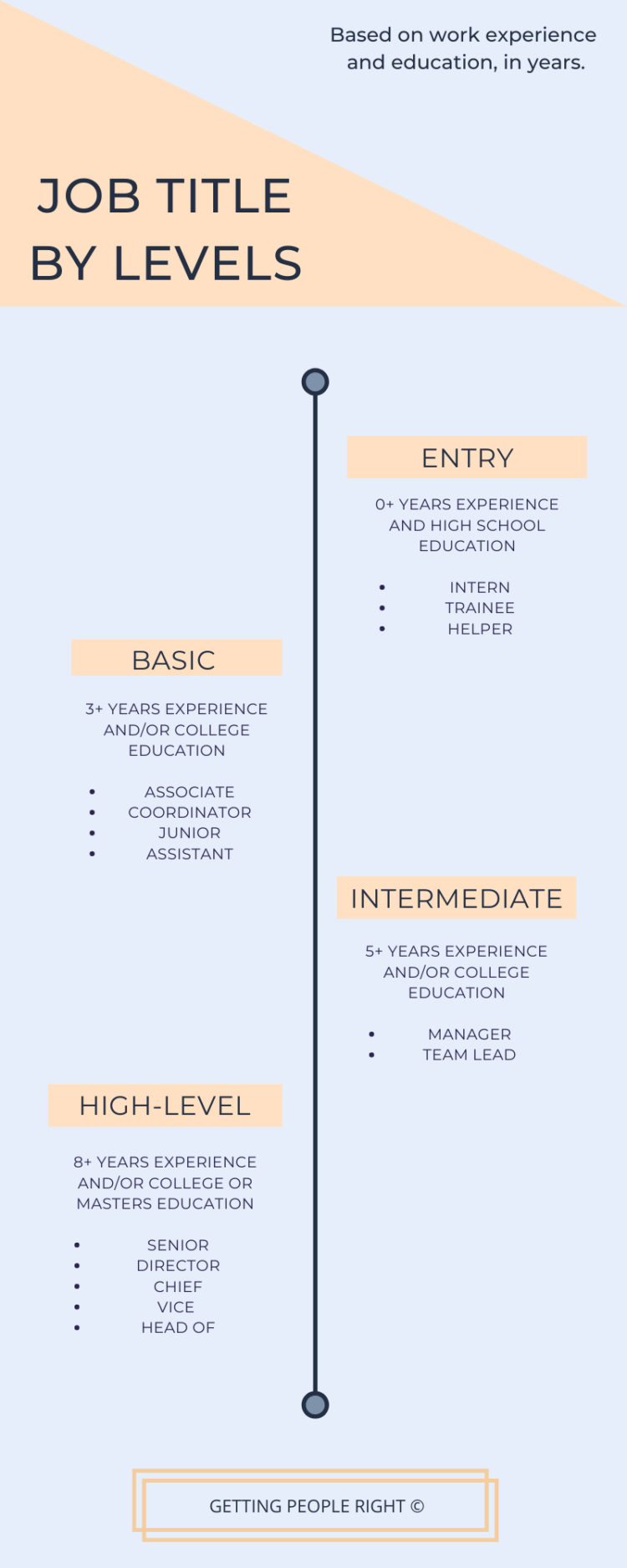 What are the Key Responsibilities of an Associate?
While it varies depending on the specific industry and company the job is being advertised in, below are a few key responsibilities you can expect to see under an associate employee job description.
Interact with customers in an approachable and friendly manner.

Process purchases as per company standards and requirements.

Collect information for the senior team for a variety of campaigns and processes.

Input and analyze data. This provides senior teams with the ability to check campaign results. It also allows them to see the impacts of certain processes within the organization
What Makes a Great Associate?
Because associate positions tend to be employees' first steps into the industry, the majority of the requirements that make a great one have less to do with technical abilities, and more to do with those skills that are harder to teach. These soft skills carry significantly more value in comparison. A few characteristics that show someone will make a great associate are: willingness to learn, being open to feedback, someone flexible and self-sufficient, and a self-starter. Candidates with great intuition, who seem reliable and efficient also tend to become excellent choices for the job.  
Interviewing For the Right Candidate
While knowing what to look for in an ideal candidate is very important, sometimes it's hard to translate that into the interview process. If you're finding it hard to do, below are some interview questions you might find helpful.
What do you think is the singular skill that makes you the best candidate for this position?


It will show if they have good

intuition

in terms of what the position will entail.

What are three words you would use if asked to describe your ideal work environment?


If they answer something along the lines of wanting a job that's never the same two days in a row, that could indicate good

flexibility.

If they answer something related always having a task at hand, it might reflect their ability to be

efficient and willingness to learn

something new. 

What is one skill you'd like to improve upon, and do you have a plan on how to achieve that?


Someone who is self-aware enough to verbalize their weak points is generally

open to feedback

. Weather from themselves or management. The answer to how they plan on achieving the change is less impactful. Any kind of personal process in place will reflect their ability to be

self-sufficient and a self-starter

– someone who takes charge of problems and attempts to solve them on their own. 
Want to get started on achieving your goals today? Take our free course on Building Your Personal Annual Plan today!
Different Types of Associate Positions
Now you know what an associate is! You also know what their responsibilities are, and how to pick out a great one during the searching process. But, you might want to see what this looks like in real life. Below are some examples of associate-based positions by industry.
Sales Associate: Generally found in retail stores, the position involves assisting customers in finding the product or service they need, and processing transactions as required. Returns, exchanges, and warranty requests might fall under this position as well.

Call Center Agent:

Similar to a sales associate position, but without the face-to-face element. Customer interactions take place over the phone, via instant messaging, email, and sometimes through social media as well. 

Marketing Coordinator:

The main task is to support the Marketing department's initiatives by researching and providing information. Create smaller content requirements, track results from possible campaigns, and provide helpful analytics to the senior teams. 

Research Assistant

: Employed under research institutes, private or public, with the objective of supporting senior researchers on their main task. Duties included in this job could be researching or editing information, helping organize focus groups, and respond to incoming emails.

Restaurant Server:

Associate positions in the hospitality industry are commonly known as server positions. Their main function is greeting and serving patrons while following legal and establishment-based rules and guidelines. 
Related Readings
Getting People Right (GPR) is an educational website providing professionals from all types of businesses with practical education in entrepreneurial leadership. To keep evolving your leadership toolkit, additional GPR resources below will be useful: