Employee Training: Definition, Benefits, and Factors Affecting Employee Performance
Key Takeaways
Employee training occurs at different levels of the organization. And it helps individuals in attaining diverse goals.

Employees feel comfortable and want to stay with their organization when they feel they are putting their efforts and skills into the bottom line for their organization.   
What is Employee Training and Development?
Employee training and development is a vital component of Human Resources planning activities. This is because it maximizes the returns of individuals and may also attract better talent to the organization. Employees get a lot of benefits from the employee training and development program. They learn the soft and technical skills as required by their jobs. Employee development programs help employees to survive in the future and develop their abilities to cope with new technologies.
 Individuals who are satisfied with their jobs believe that their work has a purpose and is important for their organization. Usually, the best performers do not leave a job for the purpose of financial benefits. Though salary and benefits play an important part in selecting and retention of employees. Many employees are still always observing the opportunities to acquire novel skills.
Benefits of Employee Training
Employee training and development is one of the most significant motivators used to help both individuals and organizations in achieving their short-term and long-term goals. Training and development not only enhance knowledge, skills, and attitudes but also offers several other benefits.
Here are some common benefits of employee training and development:
It increases employees' morale, confidence, and motivation.

Employee training and development lowers production costs because individuals are able to reduce waste.

Promotes a sense of security which in turn reduces turnover and absenteeism.

Increases employees' involvement in the change process by providing the competencies necessary to adjust to new and challenging situations.

Opens the doors for recognition, higher pay, and promotion. 

Also, it helps the organization in improving the availability and quality of its staff.

Employee development improves your reputation as an organization (which helps attract top talent).

Learning and development help create a shared language and understanding of models, concepts, and learning.
In summary, there are several benefits that employee training programs offer to individuals and organizations.
Individual Benefits of Employee Training
Training programs help individuals in learning the soft and technical skills necessary to perform their jobs. As an employee, you achieve a higher level of job satisfaction, because you feel you are investing in your own future. And you feel that your role within the organization has a real purpose. Since your loyalty tends to increase substantially, you invest more of your time and effort in achieving the bottom line for the organization. 
Individuals tend to proactively seek opportunities to acquire innovative skills. Also, to experience diverse roles, and responsibilities. Also, they look for additional personal and professional development. Such tendencies increase confidence, self-esteem, and job gratification. Training and development enhance the overall performance of individuals. 
Organizational Benefits of Employee Training
Training and development programs assist organizations in staying competitive in the marketplace. Training and development programs help organizations in the following ways:
Retaining their talent.

Helps them stand out from other organizations.

Improves their appearance as one of the best employers in the job market.

Increases the overall organizational effectiveness. 
Every organization is responsible for improving employees' performance by implementing effective training programs. Employees are the most important assets of an organization. So, it is crucial to sustaining such a notion. As an organization, you should optimize the contribution of your employees. You can do this by ensuring a suitable source of staff that is capable of growing into specialized or managerial roles. Overall, organizations that proactively implement employee training and development programs receive positive results from the individuals that use the programs.
Employee Training: Factors Affecting Employee Performance
As in any other area in the training and development arena, employee performance may be impacted by diverse factors. Here are a few of these factors:
Attitude, personal concerns, roles, responsibilities, norms, and standards of leaders in an organization.

Lack of proper equipment and skills.

High workload.

Non-attendance of key human resources.

An insufficient routine of managers.

Undecided objectives or performance standards.

A deficient statement within the organization.

Pressure from coworkers to limited presentation.

Lack of ability to get things done more.

Working conditions impact the manual or mental work of employees as they may become fatigued.

Thus, endangering organizational property. Also, increasing the possibility of accidents, low morale, or loss of life.
Employee Training: Organizations Playing their Part to Improve Employee Performance
You should provide noise-free working environments, adequate lighting systems, and temperatures.

Developing a positive safety culture ensures good working environments. Therefore, improving the overall employee performance.

You may opt to implement performance-based pay systems to reward individuals according to performance standards and objectives. However, a sense of fairness and consistency should always be applied.

Model teamwork in the workplace is of vital importance. Because it encourages open communication between colleagues. And it enables them to achieve more due to the synergy created amongst them.

Leaders should realize that a motivated organization is able to achieve a more cohesive organizational culture and robust communication venues.

Trust serves as the foundation of an organization. Because it increases employees' productivity and positive attitudes. And leads to a high level of cooperation among leaders and employees.
Employee Training: Guidelines for Assessing Employee Performance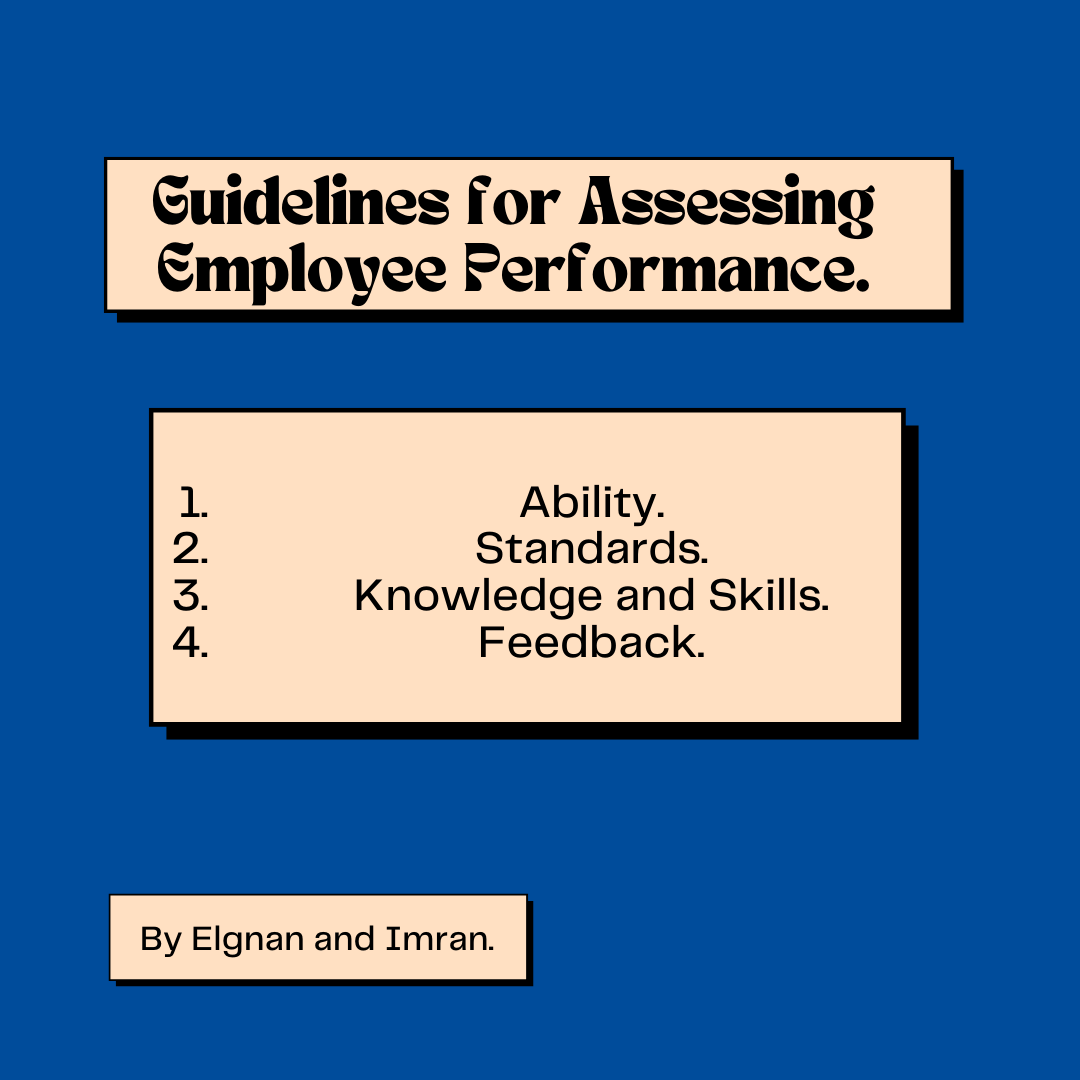 These guidelines were developed by Elgnan and Imran to help organizations easily assess their employee performance:
Ability: Assess abilities and issues, such as physical and health status. Consider how these factors impact job requirements and capabilities.
Standards: Review beliefs in regard to work tasks, roles, responsibilities, relationships, and time management. Also, how these elements impact organizational goals and objectives.
Knowledge and Skills: Assess if knowledge and skills are aligned to work tasks. If they are not aligned, identify training and development opportunities to fulfill this gap.
Measurement

: Assess the actual employee evaluation approach in terms of unbiased task performance.
Feedback: Assess if leaders provide regular, continuous work performance feedback and its alignment to compensation.
Environment: Assess the availability of resources, tools, and time necessary to perform work tasks.
Motivation: Assess the incentives or consequences for good or bad performance and how it impacts employee motivation.
Getting People Right (GPR) is an educational website providing professionals from all types of businesses with practical education in human resources and leadership. To keep evolving your leadership toolkit, additional GPR resources below will be useful: