Global Cash Card a payment solution company that provides pay card (or payroll card) solutions to companies that want to move away from traditional check payments. Their solutions are customized to work with companies existing HR and or payroll systems and they partner with Visa and Mastercard to deliver their pay card services.
What is a pay card?
Pay cards or payroll cards are prepaid cards that are like debit and or credit cards. Employers use pay cards as an alternative to checks to pay their employees. Recipients of pay cards do not need a bank account to deposit or access the funds. They can simply use the card in a similar fashion as they would a debit or credit card.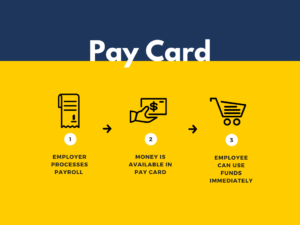 How does a pay card work?
Pay cards work in a similar fashion as debit cards but without the middleman. Employers deposit funds into pay cards each payroll period. Pay cards are distributed to employees who then can use the funds immediately. They can access these funds the same way they would with debit card. Depending on the provider, there may be similar services such as a mobile app and or online portal where employees can check their balances, pay for bills, and set up expense alerts. Note that legally employers still need to provide other options for receiving pay, such as direct deposit.
Why use a pay card like the Global Cash Card?
Pay cards like the Global Cash Card play an important role in serving the underbanked. Most banks require customers to meet certain requirements before opening a bank account. Criteria such as a credit score and or social security number may be needed before an individual can be a bank's customer. This can be a barrier for those who do not meet the requirements. Pay cards bridge this gap as they do not require any information about the holder/recipient of the card. Employers can simply provide a pay card along with an access pin to their employees. This makes pay cards particularly effective in distributing monies to all employees in an equitable fashion.
For employers, there are many reasons to adopt a payroll system like Global Cash Card. These benefits include:
• Cost effective in comparison to printing, ordering, and replacing paper checks
• Paperless payroll, allowing businesses to be sustainable by reducing their carbon footprint
• Secure method of providing funds to employees as it reduces risk of check fraud
• Convenient option for other pay benefits including paying contractors or for per diems
For employees, pay cards are beneficial in that they remove the bank middleman. This is particularly true if the employee is part of the under-banked segment of the population. These benefits include:
• Easy, quick access to monies without needing a bank account
• Low cost and convenient compared to checks as no cash checking fee and no need to wait in line at a bank
• Access to features and services, such as a mobile app, that may not be available with existing bank
There are many individuals who may use a pay card as their primary financial instrument. Most pay card companies provide end user services like online portal for account balances and expense management. This allows them to have a complete picture of their finances.
Payroll Cards in the Payment Processing and HRM Industry
The prepaid payroll industry in the US is estimated to grow to $50.9 billion by 2021. One of the biggest drivers of this growth is the increasing number of Millennials and GenZs entering the workforce who prefer pay cards over traditional checking accounts. Additionally, in America there is an estimated 24.5 million people who are part of the unbanked population. They are limited in the types of services they can use, such as online purchases. Pay cards provide an opportunity to bring these individuals into the formal economy. Furthermore, according to the Bureau of Labor Statistic, there are 1.6 million individuals who work in the gig economy who will need a means of receiving payment for their work. Pay cards are seen as a potential solution for large gig companies, like Uber, to facilitate payment to their workers.
History of Global Cash Card
Global Cash Card was founded in 2002 by Joseph Purcell in Calabasas, California. The company started as a managed solutions provider in 1995, working with companies like Sega Dreamcast, before it moved into developing proprietary payment software. In 2017, Global Cash Card was acquired by payroll incumbent, ADP. This strategic acquisition makes ADP the only human capital management provider with a proprietary digital payment platform.
They developed proprietary software for the management and administration pay cards for employers. In October 2017 the company was acquired by ADP.