What is NY unemployment insurance
NY Unemployment insurance is a state-federal program that provides temporary income to eligible individuals who are unemployed and seeking work. Each state is responsible for managing their state's unemployment insurance program by setting eligibility guidelines and administering benefits.
Unemployment insurance helps to potentially protect individuals from complete financial ruin as a result of necessary downsizing or layoffs made by employers. Programs typically require that unemployed individuals are actively seeking work in order to receive benefits.
NY Unemployment Insurance program details
In the New York State, unemployment insurance is available for all eligible unemployed individuals who have worked and earned enough wages in covered employment. Unemployed individuals can receive between $104 to $504 per week up to a maximum of 26 full weeks of benefits in one year. The benefit amount is calculated based on the income an individual earned over a certain period of time. To get an estimate of the benefit, the NY.gov website has an online benefits calculator. Benefits are paid weekly in cash by direct deposit or debit card. A benefit week runs from Monday through Sunday.
Due to the COVID-19 pandemic, the benefits period has been extended by another 13 weeks for a total of 39 weeks. Furthermore, additional benefits and changes to eligibility have been made to provide all employees impacted by the pandemic with support. For the most up to date information, please refer to NY.gov website.
Individuals can make an initial claim through the NY.gov website or by phone. After an initial claim is approved, individuals will need to certify that they are still unemployed on a weekly basis. This needs to be done even while the initial claim is approved in order for the individual to receive benefits for all the weeks that they were unemployed.
Certification contains a series of questions to determine whether individuals are still eligible. It can be done online through the unemployment insurance portal or by phone.
The NY State Unemployment Insurance is funded solely by employers. Employees do not incur any deductions on their paychecks to fund the program.
Who is eligible for NY Unemployment Insurance
To qualify for unemployment insurance, individuals need to meet the following requirements:
Involuntarily lost your job through no fault of your own
Worked and earned enough wages in covered employment
Must be ready, willing, and able to work
Are actively looking for work
Remain within the United States, Canada, Puerto Rico or Virgin Islands when reclaiming
Once approved, you will also be required to record your job search activities in order to claim your weekly benefits and attend Career Center appointments. Payments are made for every week that an unemployed qualifies for benefits. This means even when the claim is being processed, the payments will be made for all the weeks qualified and will be deposited with the first payment.
Individuals who typically do not qualify include self-employed, independent contractors, and farmers. However, with the COVID-19 pandemic, the Department of Labor (DOL) has extended eligibility to these under the Pandemic Unemployment Assistance (PUA).
Additionally, employees who have left work as a result of domestic violence, to care for a sick family member or loved one, changes in spouses job that significantly inhibits your ability to commute to work, or your hours were dramatically reduced may also be eligible for unemployment insurance.
How to apply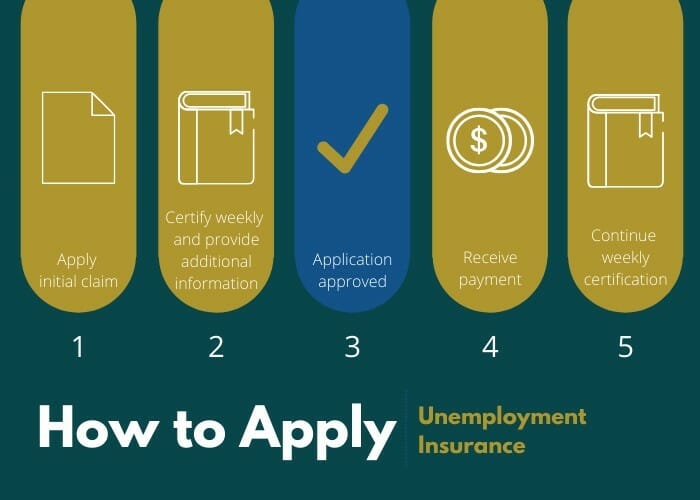 Eligible individuals can apply for unemployment insurance through NY.gov's online claim portal or via telephone. The following personal information is required for submitting the first claim:
Full Name
Address including zip code
Phone number
NY State driver's license or motor vehicle card number
Social Security Number
Alien Registration Card (if not a US citizen)
Bank account number
Bank routing number
Additionally, the following employment and employer information is required:
Employer name (available on W-2 or Record of Employment)
Wage information (available on W-2 or Record of Employment)
Federal Employer Identification Number (FEIN) (available on W-2 or Record of Employment)
NY State Employer Registration Number (available on W-2 or Record of Employment)
Steps for applying:
Create an NY.gov account – this account will be used to file your initial and subsequent claims
Gather all required information (as listed above)
Check which day of the week you should be applying (days of the week differ by the first letter of your last name. The dates can be found here)
Fill out and submit application for initial claim (either online or by phone)
Wait – initial claim will be under review
Certify weekly online through labor.ny.gov/signin and using your ny.gov login or by phone – IMPORTANT: this should be done even while the claim is in pending status
Provide additional information as needed – this may be requested in the format of questionnaire, forms, or phone calls
Claim approved
Receive first payment
Once the claim is approved, a Monetary Determination form will be sent via mail with details of the weekly benefit rate and how it was calculated. The first payment is made approximately two to three weeks from a claim being completed. To continue receiving unemployment insurance benefits, claimants must certify weekly for every week they are unemployed and within the US, Canada, Puerto Rico, and Virgin Islands.
The Professional Leadership Institute provides training on termination of employment and offers a free preview.
Current NY Unemployment
According to the Department of Labor report, as of March 2020, the unemployment rate in New York State is at 4.5%. Due to the COVID-19 pandemic, the unemployment rate is expected to be higher for the month of April 2020.
Additional Resources
Benefits Calculator (only provides an estimate)
Initial claim – day of the week for application
Unemployment insurance online portal
Telephone (for initial claims) – 1-888-209-8124