What is a part time job?
A part time job is employment where the weekly work hours are less than that of a full-time job. The number of hours per week that is considered full-time work depends on the jurisdiction of employment. The most common full-time work week is 40 hours.
Benefits of a part time job for employees
Having a part time job can bring many benefits. For students, it provides work experience that can be valuable when for applying for jobs after graduation. It also allows them to earn an income while accommodating school priorities. For others, a part time job provides needed flexibility for balancing the other priorities in an individual's life. For example, you may be a parent who needs to be able to pick up and drop off your child from school –a part time jobs can provide this flexibility. Other benefits of part time jobs include:
Extra income – one of the main reasons for taking on a part time job is more money. For some people, a part time job as a second job is necessary to make ends meet. For those who have the luxury of choosing, having more income can help pay off debt or save for a big purchase.
Flexibility – most part time jobs are flexible in their hours and scheduling, which can be important if there are other priorities, such as childcare, that require a flexible schedule.
Experiences and new skills – taking on a part time job is a great way to gain experience in an area that is outside of your current role. For example, you may have always wanted to learn how to pour the perfect latte art; taking a role as a barista means learning from professionals on how to drip the perfect heart.
Social circle and network – a part time job can provide the opportunity for making new friends and expanding your professional network. This can be particularly enriching if the part time job involves a hobby where you can meet like-minded individuals to share your interests.
Avoiding burnout – individuals who only work part time jobs also have more time for activities they find rewarding, such as going to the gym or taking on a hobby. This can help provide much-needed balance and prevent burnout.
There many other benefits that can come with working part time in a job, including building connections within an organization that you are interested in working for full time as well as being more cognizant of how one spends their money and time. Before jumping into a part time job, it is important to take the time to reflect on what one is looking to get out of a part time role and how it will benefit and enrich their lives.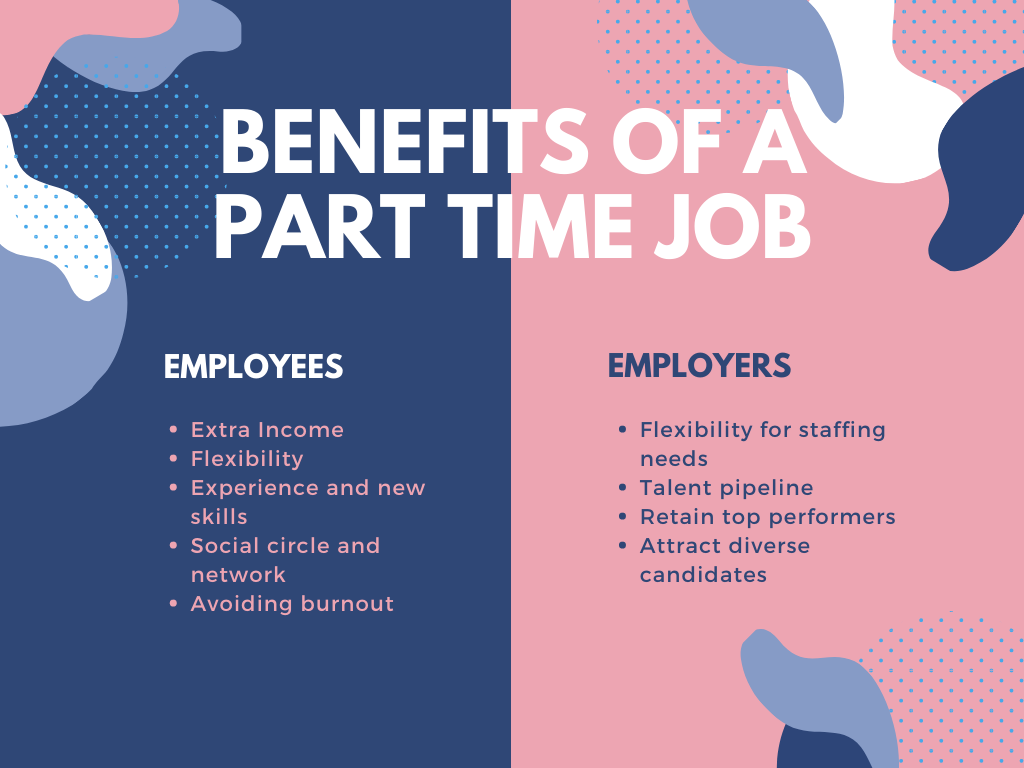 Benefits of part time jobs for organizations
Adding part time jobs to the job mix at an organization is highly beneficial. The way we work has evolved – having employees adhere to a 9 to 5 may not be necessary for achieving the organization's objectives. Furthermore, offering part time roles can provide employees with the flexibility they need to feel satisfied with their roles. Here are some reasons why part time jobs should be considered for an organization:
Flexibility for staffing needs – having part time jobs as part of the employment mix provides companies with the flexibility to meet both staffing and budgetary needs. Organizations that experience seasonality, such as retail stores, can use part time staff to fill in when demand increases.
Talent pipeline – hiring part time staff can also act as a tool for recruiting and grooming talent. The company can train an employee on the business and the role before committing them to full time employment. This builds a pipeline of potential talent for full time roles while minimizing the risk of hiring someone externally who may be a bad fit.
Retain top performers – allowing current employees to work on a part time schedule is a great way to keep key employees while they are going through different life stages. For example, an employee may need to care for a loved one who is sick. Being able to switch their role to part time allows the company to keep the key employee while providing them with the flexibility to tend to their loved ones. It also demonstrates that the company values the employee, which can lead to higher engagement and performance from the employee.
Attract diverse candidates – including part time jobs in the employment mix can change the types of candidates that the company attracts. This can lead to hiring diverse talent with different perspectives and ideas while also enriching the company culture.
How to find the right part time job for you
Understand your why – being able to recognize why you want a part time job will ensure that your search efforts are focused. This is particularly important for those who are taking on a part time job in addition to a fulltime role. Having a specific goal in mind, e.g. paying off debt, will be helpful in determining how long your may want a part time job for and what roles you are willing to take.
LAMP method – Steve Dalton's book, The 2-Hour Job Search, provides a great framework for approaching any job search. This method will get you to brainstorm a list of companies you would be interested in working for and whether you have an existing network. Having this laid out will be helpful when going to research and apply for jobs.
Leverage your network – reaching out and talking with people about what you're interested in and where will do two things: first, it will put out to your network that you are looking for a part time job, allowing for opportunities to come to you and second, it will open up conversations with people who you may want to partner and work with.
Top 10 interesting and enjoyable part time jobs
Brand Ambassador
Being a Brand Ambassador, especially for a business you really align with, can be exciting. Most companies will provide their ambassadors with samples of the product to learn about and try.
Fitness Instructor
What better way to hold yourself account able to your fitness goals than to turn it into a job? Becoming certified to teach your favourite fitness class is a great way to connect with new friends while staying in shape.
Front Desk and or Hotel Concierge
If you are known as the foodie or social butterfly in your circle of friends, then a Front Desk or Hotel Concierge job will allow you to flex your restaurant recommendations.
Usher or Service Staff for theatre or music venue
This is a great way to watch your favourite shows and or artists while making money at the same time. You may end up rubbing shoulders with some of your heroes too.
Social Media Coordinator
Have a knack for creating great content for Instagram? A social media coordinator role can put those skills into practice by relating your efforts back to dollars.
Dog Walker
This is perfect for anyone who is a dog lover and may be in a living situation that does not allow them to own a pet.
Remote Customer Service Representative
For those who are looking for flexibility in both hours and location, there are lots of companies in IT and or online retailers who allow customer service representatives to be fully remote.
Virtual Assistant
If you have a knack for being organized, virtual assistant is way to make a few extra dollars doing something that autonomous to you.
Retail Worker
Taking up a part time job at one of your favourite stores can be great for discounts. It is also dangerous if your motive for a part time job is to save money. Be clear with what your goals are before exercising this option.
Rideshare Driver
Driving Lyft or Uber is a great way to explore your city while meeting new people.