What is a perk (versus a benefit)
In recent years, technology giants, such as Google and Facebook, have led the way in winning top talent by lavishing employees with amenities such as sleeping pods and free food. These amenities, or better known as work perks, are additional factors and bonuses of an organization that contribute to a candidates' decision to join a company. Work perks span all types from free coffee to corporate vehicles. Some perks that are less tangible but still valuable include mentorship opportunities and even the company's reputation (being able to say you've worked at Google in itself can be a huge perk). All in all, perks have become an imperative factor for companies that want to attract top talent.
Work perks should not be mistaken as benefits. Benefits are non-wage compensation that are meant to supplement an employee's salary. Examples of benefits include health insurance, stock options, defined contribution plans, and retirement savings plans. Benefits have dollar values that increase an employee's total compensation. In some cases, these benefits are paid by the employer, but is still considered taxable benefits to employees.
It is also important to recognize that perks at work is not synonymous to corporate culture. Corporate culture is the collection of norms that rituals of an organization. Work perks can be a tool for helping achieve a proposed corporate culture. For example, if an organization wants a culture of relaxed creativity, then a work perk to support that would be a casual dress code and dedicated innovation time, like 3M's 15 percent program.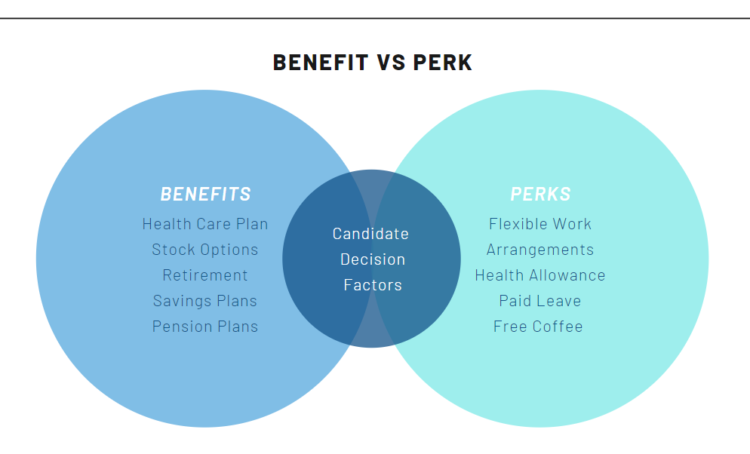 Why work perks are important
Work perks, along with benefits, are major deciding factors for candidates when choosing between offers. Hiring top talent has become increasingly competitive. Additionally, companies are struggling to keep workers as they face a growing millennial workforce that is prone to job hop. The cost of replacing an employee is estimated to be about $15,000 for employees earning an annual $45,000 per year. All of this culminates to companies spending significant resources just to continue operating in their current state.
Providing perks at work is one way to attract and retain employees. Perks like flexible work hours and subsidized fitness memberships can create enough stickiness to reduce attrition. For example, providing a flexible work schedule and remote work is highly beneficial for an employee who has obligations, such as children or parents, outside of work. This perk is enough to deter an employee from jumping ship.
Disadvantages of work perks
While work perks can attract and retain talent, it is important to recognize some of its drawbacks.
Diminishing returns of perks
When a perk is first rolled out, they have an awe factor and employees will appreciate them. However, over time the value of these perks diminishes, and what was once a perk may become expected by employees.
Scalability
Certain work perks do not scale with a growing company, leading to potential issues when a perk is discontinued. Free snacks is a great example where scalability comes at an unjustified cost. Food costs soar as the company grows and the time required to stock the snacks, keep it clean, and manage all employee allergies all add up. Discontinuing the perk can create issues and even lead to employee resentment.
Community impact
Large companies that provide free food of the Michelin Star quality absolutely devastate the local food economy. Small restaurants who would have benefited from lunch time foot traffic are stuck trying to compete with deep-pocket corporations serving free food (and free is very hard to compete with).
Best work perks
Paid parental, bereavement, and sick leave
This is by far one of the most underrated work perks that every company should be providing. Providing paid leave during some of life's major milestones support an employee when they need it the most. Being there for employees during this time can build loyalty.
Flexible working arrangements
Allowing employees to choose their working hours and location reinforces the trust an employer has in their team. It also leads to higher job satisfaction, which helps keep employees happy and productive. Flexibility may also be a key factor for a candidate when evaluating offers; if they have other responsibilities such as sick family members or children, flexibility will be imperative.
Health and wellness allowance
Exercise keeps people healthy and sharp. Providing employees with a health allowance pays dividends by encouraging employees to invest in their wellbeing.
Season Tickets
Sharing corporate season with the team can give all employees an opportunity to bond over a common experience. For employees who may have never been, it's also a great first experience that can be shared with family members or friends; such a perk can build goodwill with employees.
Worst work perks
Open office layout
The open office layout is not a perk. In fact, research out of Harvard Business school suggests that these spaces are counter intuitive to achieving the type of collaboration that they were designed for.
Unlimited vacation days
The perk sounds great in theory, but many reports show that most employees, even without an unlimited vacation tag, rarely use up all their vacation. Unfortunately, the culture of success has perpetuated that those who get in early and stay late is what demonstrates loyalty to a company. Taking a vacation would disrupt this overt display of loyalty and thus would be taken into consideration when evaluating performance and promotion.
The most lavish work perks