History of Plato's Closet
Lynn and Dennis Blum were no strangers to the resale market when they started Plato's Closet, a teen and young adult used clothing store, in 1998. Their previous business, Once Upon A Child, provided them with the training ground on how to successfully build a resale store and in 1993 they sold the franchise rights to Winmark Franchise Corporation. As they set out to expand Plato's Closet, Blum reached out to Winmark once again to help them scale.
With over 450 franchises across the US and Canada, Plato's Closet is touted as the leading reseller of teen fashion. While consumer preferences have shifted, so has the customer demographic for resale; as an industry that was previously dominated by not-for-profit and religious organizations and customers that were highly sensitive to recessions, the resale market now sees a steady stream of customers from all spectrums of affluence. This is expected to drive continued growth in the market, while new competitors enter and apply pressure to existing retailers.
Insight on The Fashion Resale Industry
The Secondhand (or Used Goods Stores) industry is an estimated $21 billion industry as of 2019[1]. Within that, Resale, which are stores that buy and resell used merchandise, is the fastest-growing segment and is expected to double over the next five years[2]. Millennials and Gen Z drive the Secondhand industry growth and account for 49% of the industry's consumers[3]. Between 2017 to 2019 alone, GenZ embraced second-hand apparel with the percentage of shoppers who bought second-hand growing by 46%, outpacing Millennials, the runner-up, by 7%[4].
Historically the Secondhand industry was dominated by thrift stores ran by not-for-profit and religious organizations[5]. These organizations serve a customer segment that is marginalized, highly price-sensitive, with very limited disposable income. Thrift stores offer a wide variety of second-hand goods that span everything from apparel to kitchen appliances. The Secondhand industry, and specifically resale, has experienced a shift as new for-profit companies, such as Winmark Corporation, enter the market. This is primarily driven by consumers becoming conscious about the sustainability of their fashion purchases and social media perpetuating the constant need for new trends. Newer resale companies are differentiating themselves by specializing either in type or by style (e.g. luxury or teen clothes).
Plato's Closet Business Model
Plato's Closet is a franchise brand owned by Winmark Corporation. It earns the majority of its revenues through franchise fees and grows by signing on franchisees in viable locations. Entrepreneurs who purchase a Plato's Closet franchise can expect Winmark to provide thorough, hands-on training on all aspects of buying, managing, and selling gently worn merchandise.
Winmark helps Plato's Closet franchisees achieve high-profit margins by focusing on the supply side of the value chain. Training for franchisees is centred on how to turn around inventory quickly by amassing the right type of clothes at the right cost and pricing them accordingly. Fresh inventory is key in drawing customers in regularly while also creating a sense of urgency. All of this working together is what brings in average annual revenues of $1,093,448 and a reported gross margin of 61.69%[6], making the investment incredibly attractive for fashion-passionate franchisees.
For their customers, Plato's Closet provides two value propositions. For sellers, it provides a convenient and quick way to turn clothes into cash; no appointment is needed, and cash is provided on the spot. For buyers, they can buy gently worn, relevant items for a fraction of the retail price, allowing them to be seen in new styles and outfits without breaking the bank.
Success Factors
Plato's Closet's success can be attributed to two factors – its frictionless experience for sellers and its customer experience.
Sellers can simply show up to a Plato's Closet location with no appointment and receive cash on the spot for their clothes. This differentiates Plato's Closet as resale and consignment stores still operate with an appointment, cash or store credit system. Stores are also equipped with a Point of Sale (POS) system and proprietary software that allows employees to look up the suggested buy price for an item. The store pays the seller and the clothes immediately become part of the inventory[7].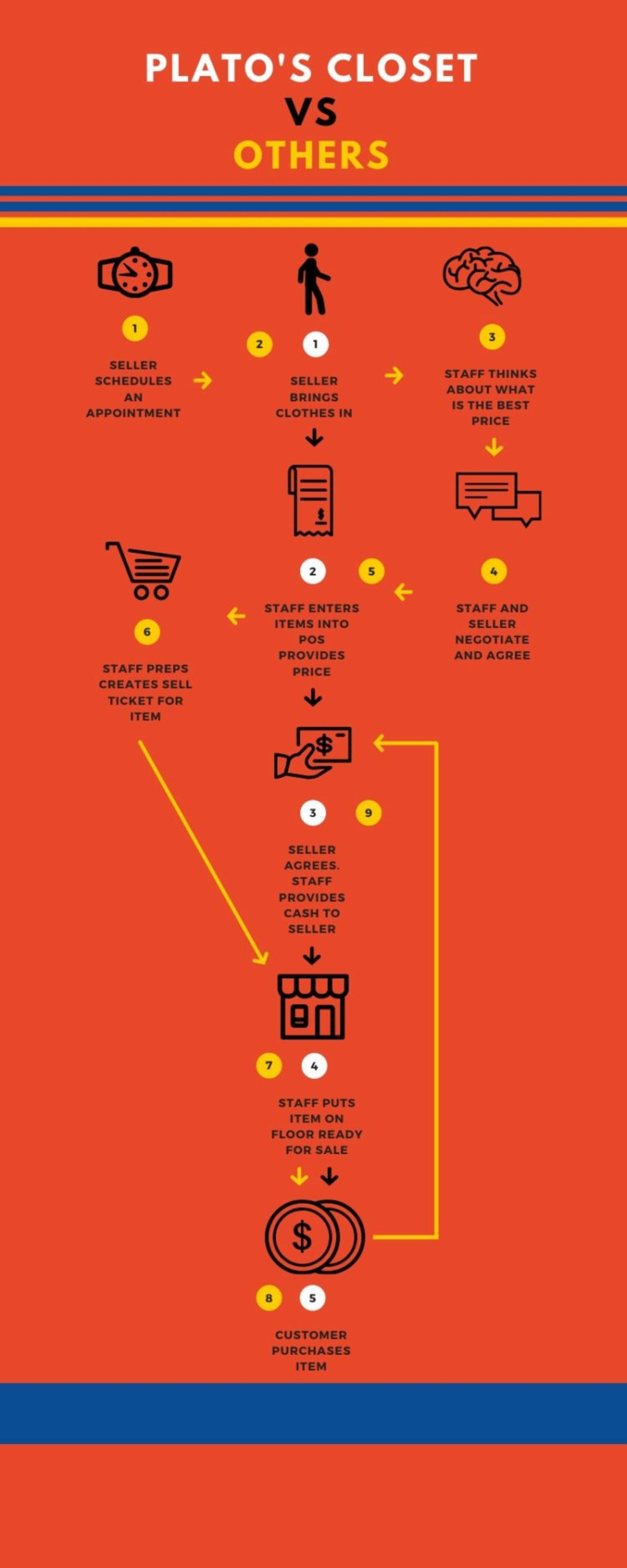 By reducing the barriers for sellers, Plato's Closet can amass a large and relevant inventory that offers their trend-hungry customers. Having software manage and suggest price also minimizes guesswork by staff and streamlines the inventory process. This creates two efficiencies; first, it allows for Plato's Closet to collect data on pricing, which provides the optimal price for maximizing store profits. Second, the POS system automates the creation of the buy ticket and the inventorying of the item, which can be labour intensive. By reducing the time it takes an item to get on the floor, the store is able to turn over items faster.
Another success factor of Plato's Closet is the customer experience. It focuses on creating a store that is shoppable by ensuring that merchandise is organized and that the store is clean. Franchisees are extensively trained in providing quality customer service to both buyers and sellers.
Plato's Closet – Looking Ahead
As the Resale industry continues its growth, Plato's Closet will need to help its franchisees digitalize the shopping experience in order to remain competitive. This can be achieved by leveraging their existing technology to streamline into an online and mobile experience and harnessing the insights from all available data to optimize profit margins.
Digital resale companies such as Poshmark and thredUp are entering into the Resale industry with a business model that is low cost and caters to the purchasing behaviours of Plato's Closet's target customers. The mobile experience allows customers to purchase items as immediately as they see fit. In addition, rental retailers, such as Rent The Runway, are also entering the retail space as an alternative to ownership of high-price fashion. Both factors will encroach on Plato's Closet's market share.
Plato's Closet has also amassed significant data that it should leverage to drive profitability for franchisees. Applying innovative technology, such as AI, can help uncover optimal buy and sale prices as well as inventory optimization across the whole system. This will help drive down costs and improve profit margins for stores.
[1] IBISWorld, "Used Goods Stores in the US," IBISWorld, accessed April 7, 2020
[2] thredUp, "thredUP 2019 Resale Report," thredUP.com, accessed April 7, 2020, https://www.thredup.com/resale?tswc_redir=true
[3] thredUp, "ThredUP 2019 Resale Report," thredUP.com, accessed April 7, 2020, https://www.thredup.com/resale?tswc_redir=true
[4] thredUp, "ThredUP 2019 Resale Report," thredUP.com, accessed April 7, 2020, https://www.thredup.com/resale?tswc_redir=true
[5] IBISWorld, "Used Goods Stores in the US," IBISWorld, accessed April 7, 2020
[6] Franchise Chatter, "FDD Talk 2019: Plato's Closet Franchise Review (Financial Performance Analysis, Costs, Fees, and More)," Franchise Chatter, June 18, 2019, accessed April 8, 2020, https://www.franchisechatter.com/2019/06/18/fdd-talk-2019-platos-closet-franchise-review-financial-performance-analysis-costs-fees-and-more/
[7] Franchise Chatter, "FDD Talk 2019: Plato's Closet Franchise Review (Financial Performance Analysis, Costs, Fees, and More)," Franchise Chatter, June 18, 2019, accessed April 8, 2020, https://www.franchisechatter.com/2019/06/18/fdd-talk-2019-platos-closet-franchise-review-financial-performance-analysis-costs-fees-and-more/