WHAT IS TALENT MANAGEMENT?
Talent is a natural aptitude or skill. It's one's ability to do something well. In business- talent refers to the people in the organization who make a difference by contributing today or in the long term based on their potential. 
Talent management is about dealing with employees and controlling what they do based on the definition of talent. By managing them effectively, they will perform as you need them to. It's about putting activities, processes and systems in place that help attract, maintain, encourage and evolve the talent required in a business. 
WHY IS TALENT MANAGEMENT CRITICAL? 
The implication of talent management is manifold. Talent management focuses on the employee's performance today and fuels them to evolve constantly to meet the performance needs of the business tomorrow. 
Talent managers locate the strongest applicant either within or outside the business. Moreover, they identify the weakest and assist in improving and retaining their jobs, resulting in high employee retention. Companies cultivate talent and support personnel to maintain good corporate performance and ensure future business growth. Employees create and maintain the workplace culture, the company's core vision, and purpose. They also achieve the company's procedures, targets, and aims.
A business can only be as successful as its personnel. 
Talent management contributes to fulfilling the strategic goals of the business, including but not limited to:
Developing fulfilling roles and work where the employees can do meaningful work while climbing the corporate ladder.
The talent management team has the power to contribute massively to inclusion and diversity in firms.
Smart can help build a high-performing workplace and increase productivity.
You are adding value to the 'employee value proposition. '
4 PITFALLS OF TALENT MANAGEMENT
1. MISALIGNMENT BETWEEN EMPLOYEE AND COMPANY

When there is a shortfall in the department of acquiring talent, there is a high likelihood that the recruits will not fulfill the organization's demands.
To avoid misaligning employees to companies, you must periodically refine, clarify, and remind the business objectives and goals. By going so, you will be able to identify the gaps in the business and hire the right talent and leadership accordingly to grow.
2. DUPLICATIVE HIRES

Unclear business goals will hire new talent with the same skill sets. This oversight leads to reductant and inefficient hiring. Therefore, acquiring talent with identical abilities is inadequate for corporate resources.
3. EMPLOYEES ARE UNSATISFIED AND UNDERAPPRECIATED.

The company's leadership can show their appreciation to their team during the onboarding and peer review stage. Therefore, the onboarding stage sets the tone for how the new employee will engage in the years to come.
According to a survey, unsatisfactory performance feedback is a bummer for 24% of employees. Employee participation, contentment, and work happiness are all dependent on continual performance reviews and periodic feedback from team leaders.
4. DIFFICULTY IN HIRING THE RIGHT TALENT

Succession planning is a critical stage in ensuring the fulfillment of important positions. Positions risk being vacant if a firm does not invest in educating and training the staff. The investment in developing skills can better equip the company to replace executives who retire or resign.
If the hiring is poor, the vacancies cause projects to delay, and clients become frustrated due to copping the current employees, and managers must pick up the slack. They are resulting in employee exhaustion.
WHAT IS THE TALENT MANAGEMENT LOOP?
1. ATTRACTING CANDIDATE
The ability to reach qualified talent depends on how the applicants perceive your business and industry. Further, it depends on whether they share the same vision and values as the organization. Developing the right employer brand online on sites like Linkedin, Indeed, Glassdoor, etc., is vital in hiring external talent.
2. RECOGNISING TALENT
After creating an excellent presentation to the public, it's time to identify the most crucial roles to hire. These positions, when left unattended, will leave the business vulnerable.  Succession planning comes to play. Succession planning is when employees train potential talent within the company to fill critical roles.
The decision regarding who will replace talent is judged based on an individual's previous performance and future potential. A robust performance management process must be in place in any company from day 1.
3. NURTURE TALENT
Nourishing talent is associated with research, learning, and developing skills that reflect the business objectives. Organizations at this stage invest and value on-the-job training, mentoring or coaching. Moreover, staff are encouraged to host and attend networking events. Employees meet and greet or dine and wine with senior management to build relationships through networking events.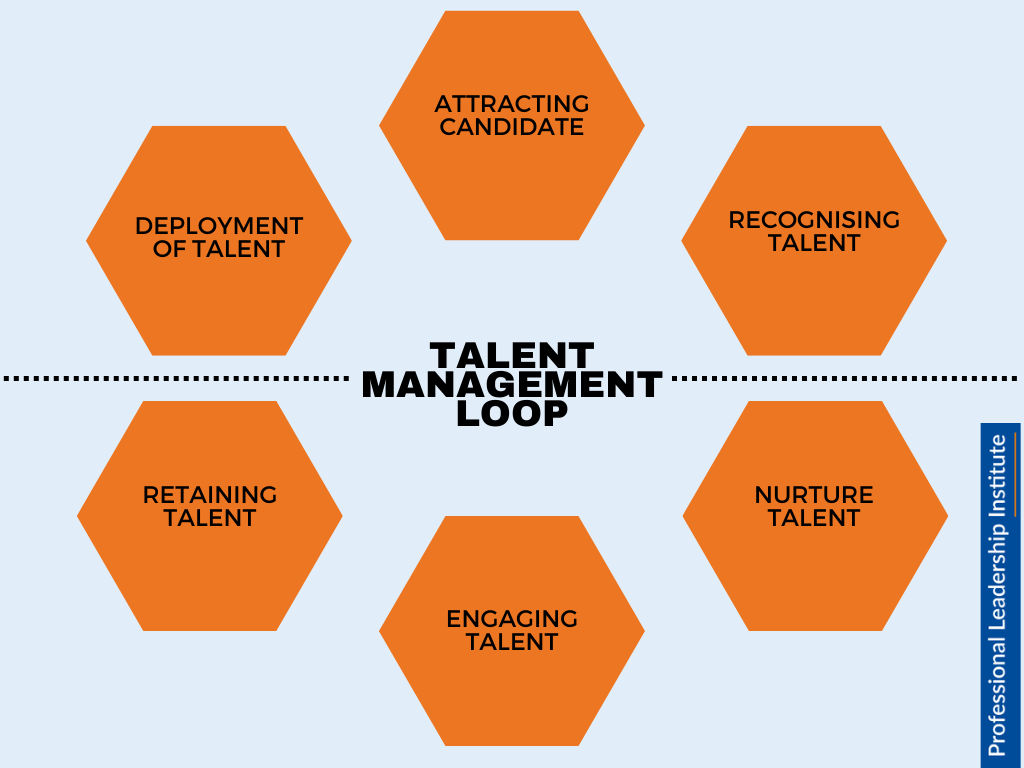 4. ENGAGING TALENT
There is a clear link between a position and business objective if the employee produces high-quality work. Research shows that employees are happier, well managed and healthier when business and personal goals are aligned. Therefore, people management and motivation lie at the soul of talent management.
5. RETAINING TALENT
Engaging with employees improves and increases employee retention. Furthermore, retention tools like rewards schemes, recognition, monetary incentives etc., can be incorporated.
6. DEPLOYMENT OF TALENT
Workforce deployment is crucial for all companies. Through meticulous workforce planning, businesses can identify the skill gaps and strat appropriate training.
Final Thoughts
A good talent management approach could result in a work environment full of high-performers and brilliant employees who are grateful to the work culture and managers. Employees that are competent in their skill set and satisfied in their job roles are motivated to excel at the highest level of their abilities. 
RELATED READINGS
Getting People Right (GPR) is an educational website providing professionals from all types of businesses with practical education in human resources and leadership. To keep evolving your leadership toolkit, additional GPR resources below will be useful: