It may be tempting to start off an email or letter with "To Whom It May Concern", however you maybe performing a major disservice to yourself. Technology has transformed how business operate and, with that, how people communicate. The introduction of email, blog, and social media have paved way for communication to be more frequent and less formal. Starting off a correspondence with "To Whom It May Concern" may make send the wrong signals to your readers and prospective audience.
Why it matters?
As a general rule of thumb, any correspondence should never start with "To Whom It May Concern" for the following reasons:
• Perception of laziness – using "To Whom It May Concern" is a sign that the author has not taken the time and care to research who they are addressing the correspondence to. Quite simply, it makes the author look lazy. This is particularly true for cover letters for a job, or responses to a request for proposal (RFP), and or any other correspondence that can be personalized.
• Formal and outdated – the phrase comes from an era when business communication was highly formal and packaged into neat letters and bulletins. Starting a letter off with the phrase may alienate your reader, especially in a time when corporate cultures attitudes lean more business casual than suit and tie.
• Risk of incorrect use – more often than not the phrase is used incorrectly. If a reader happens to be well versed and pedantic about the use, the author may be judged twice – once for poor choice of an opening and once for incorrect use.
With that said, always take the time to research the recipient and or reader of the correspondence. Simple searches in LinkedIn or the company's website can provide names and contact information to key individuals.
When to use "To Whom It May Concern:
There are few scenarios when using "To Whom It May Concern" may be appropriate. They include:
• Letters of recommendation – a letter of recommendation is a formal piece of correspondence where the author does not know who the readers are, thus it is appropriate to start the letter with "To Whom It May Concern".
• Formal compliant – in the same vein as a letter of recommendation, it is not obvious who a formal complaint needs to be sent to in the company. In this case, addressing to a wider audience is ok.
Be sure to use "To Whom It May Concern" properly by following the below:
• Capitalize the first letter of every word
• Always follow with a colon
• Always follow the colon with two spaces before beginning the body for your letter
• Whom or Whomever are the grammatically correct words, not Who
Example Letter:
To Whom It May Concern:
I am writing to file a formal complaint around the customer service I received at your store on Saturday, January 12. I was walking in …
When not to use it
It is advised, as a general rule of thumb, to avoid using "To Whom It May Concern" whenever possible. With the vast resources available on the internet, finding out who to address the correspondence to should not be difficult. Doing a little research on LinkedIn or the company's website can unearth a number of key individuals to connect with. This may also be an opportunity for valuable coffee chats or informational interviews. Reaching out to personal business contacts or simply giving the company a call are other ways to identify who to address. If all else fails, there are numerous alternative greetings that are still better than "To Whom It May Concern".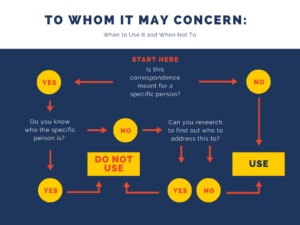 Alternatives to "To Whom It May Concern"
It is acceptable to address the correspondence to the title role of the person and or even the department. Below are examples of alternative to "To Whom It May Concern":
Dear Hiring Manager
Dear [Department] Manager
Dear [Name of Role of the person you are pursuing]
Key Take-Aways
• Avoid using "To Whom It May Concern" whenever possible to avoid negative perceptions of laziness or stuffiness
• Research – take the time to dig through Linkedin and the company's website to find out who to address the correspondence to
• Dear [Department] Manager or Dear [title role of person you are pursuing] are acceptable ways to address an individual