How to Become an Efficient Remote Employee
Key Takeaways
Being a remote employee comes with a lot of benefits such as flexibility.

There's no single formula on how to become an efficient remote employee because everyone works at a different speed, and time zone and has different methods on how to make the most of their time.
In this short guide, we've put together the best practices for remote workers, mainly seven tips every remote employee should know in order to be a successful employee. If you work from home (or anywhere aside from the official site of a company) or plan to, this guide is for you!
6 Tips on How to Succeed as a Remote Employee
According to Forbes, LinkedIn's Global Talent Trends report shows that there has been an 83% percent increase in job posts mentioning flexibility since 2019, as well as a 343% percent increase in mentions of flexibility. This means more remote workers are expected to enter the workforce soon. Although it may take some time, it's possible for you to become a successful remote employee who has a good work-life balance. 
One of the major reasons you got (or plan to get) a remote job is because you need a flexible work schedule– the ability to choose when, how, and where you're able to do your best work. So how can you enjoy the flexibility and still be an effective contributor at work? Simple, you need to overcome the core challenges associated with being a remote employee. In this section, we've shared some of the important elements in remote working and ways you can overcome these challenges.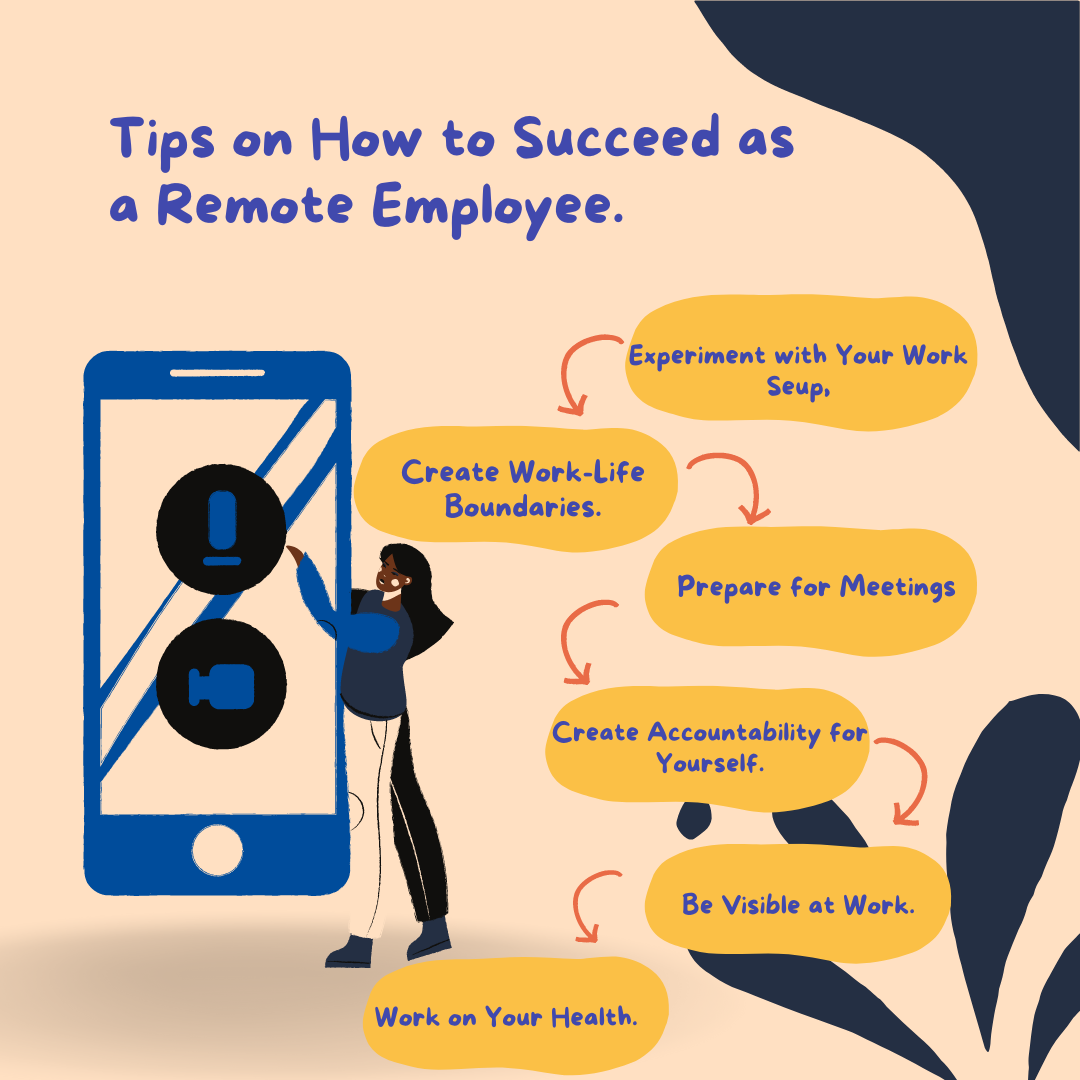 Experiment with Your Work Setup
Whereas a traditional office worker may have to work behind a desk and wear certain outfits, as a remote worker you have the freedom over your choices in where you work, what you wear, and other aspects of the job. One fun way to find the best work setup that works for you is to try a few different ones.
Here are a few things you can experiment with:
Where you work — home, hub, co-working space, cafe.

What you wear — pajamas, casual clothes, business clothes.

What times do you work and when you start.

What type of work do you do during certain times of the day.

When you take breaks and what you do during those breaks — go out for a walk, eat a snack or meal.

What you listen to in the background— Jazz, Hip-Hop, Blues, or Country music to name a few.
Experimenting with various setups is fun but don't forget to spend time on your home-office workspace too! Get a strong desk, an ergonomic chair, a house plant, or whatever you think you may need.
Create Work-Life Boundaries
As a remote worker, it's crucial that you set boundaries between your work and the rest of your life. It's very easy to develop the habit of waking up and working till nighttime with little or no breaks this is because you may begin to associate being at home with being at work. Use the easy tips to create necessary boundaries:
Establish clear office hours.

Have a dedicated workspace.

Turn-off notification.

Use props.
Meetings are a crucial part of remote working. Chat applications such as Slack are great for communicating, when it comes to important meetings these platforms lack many of the benefits of traditional meetings. This is why remote companies prefer video meetings for such. Here are a few things you should remember when engaging in a remote call:
Make sure your camera is set up at the right angle.

Wear professional clothes (wearing a tee and pajama bottom is very comfortable–well until you jump on a video call with your team and have to get up and do something else).

Focus on the call.

Make sure your room has adequate lighting so people can see your face clearly.

Take notes.
Create Accountability for Yourself
When working in an office you are surrounded by other people who could check on you at any time. This easily helps you stay productive because you don't want to be caught inactive during work hours. But as a remote worker, you don't enjoy such a source of accountability. So, what source of accountability can you use while working remotely? Here are a couple of ways you can try:
Set time blocks.

Use a calendar.

Make use of To-Do lists.

Have accountability partners in your team.

Use synchronous tools.
As a remote employee try to make yourself visible because it will make it easy for you to interact with your team. This helps with accountability–if people know what you're working on, you may find it easier to complete. There are many ways you can make yourself more visible to your team:
Check-in with your team.

Schedule frequent meetings when necessary.

Celebrate your wins and your team members.
According to FlexJob Survey, a survey conducted between February 23, 2022 – March 7, 2022, showed that 77% of respondents chose remote work as the second-highest compensation and benefit that was important to them. Remote working has the ability to improve your mental health. However, when working remotely, it can be difficult to balance your work and life. Thus, it's important to work on your health. While working remotely, it's very easy to stay at home most of the day and work for the entire day but this is not sustainable and can lead to burnout.
Here are a few things you can do to stay healthy:
Try meditation– spend five to twenty minutes each day practicing mindfulness or meditation. Try productivity apps such as

Balance

,

Calm

, or

Headspace

.

Take frequent breaks– short ones during work hours and long breaks while off-duty.

Eat lunch away from your work desk.

Eat nutritious food.

Exercise or do physical activities such as jogging, walking, etc., regularly.
According to Buffer's "State of Remote Work 2021", 27% percent of remote workers say not being able to unplug is their biggest struggle as a remote worker. Working from home all day, sitting behind your computer in your pajamas with your dog on your lap– aside from being unhealthy can also damage your social relationship. When you're in an office you can interact with your colleagues but as a remote worker you don't enjoy this luxury, hence you need to go out often. Here are a few ways you can socialize as a remote employee:
Attend local events.

Plan a cool hangout session with friends.

Occasionally work from co-worker space, hub, or cafe.
Setting Yourself Up for Success as a Remote Employee
As a remote employee, you are location-independent, and you contribute to a company without commuting. This is really great!
But sometimes it can be difficult at times to work remotely, but the flexibility you get from working remotely is worth it. 
And in order to successfully work remotely, you need a well-organized day-to-day plan that includes activities that are fun and engaging. 
Ultimately, make sure you develop a routine and adapt the tips we've shared in this guide.
Professional Leadership Institute (PLI) is an educational website providing professionals from all types of businesses with practical education in human resources and leadership. To keep evolving your leadership toolkit, additional PLI resources below will be useful: