It is very important to set goals in your career. Equally important is having aspirations. One common question you may get asked in an interview question is what are your career aspirations? 
If you weren't prepared to be asked such a question, it may make you nervous. In this article, we'll take a look at everything you need to know about answering such a question when asked.
What Does Career Aspirations Mean?
A career aspiration is a path you want your career to follow. It's very important to differentiate between goals and aspirations. 
They're both similar, the main difference being aspirations are what you hope to achieve in your professional life in the future while goals are more tangible. 
Your career aspiration is what fuels you to achieve your goals.
And the reason why employers ask about your career aspirations is that they want to ensure your goals align with the company's mission. 
Also, it makes it easier to know if the job position you're applying for is ideal for your career, how dedicated you will be, or how long you plan on staying with the company.
Say you want to be a product designer. Using your skills and experience, your career aspiration could be to make an impact by creating products that fix real problems in a specific industry. 
You can decide to be the best in the field and even help aspiring product designers by teaching them how to do so.
How to Talk About Your Career Aspirations At An Interview.
 When asked what your career aspirations are by an interviewer the most important thing to remember is that when speaking you ought to align your professional aspirations with the company's mission.
Always try to tailor your aspirations to fit where you're applying.
You don't need to change your career aspirations to show you fit in instead think of it as updating your CV according to a job role.
 For instance, if you're applying for a role in an organization with a flat structure, when talking let the hiring manager know that you aspire to work independently.
Having aspirations and goals are highly beneficial to you, so it isn't you trying to impress your interviewer or family. 
When asked about your career aspiration your response helps the interviewer know two things:
What's the duration of your stay with the company?

What motivates you to work.
Hiring managers are curious to know why you want to work for them, and asking about your background or simply, "why you want to work for us" just isn't enough.
Aside from painting a picture of the type of employee you will be long-term or short-term, having aspirations shows that you didn't just stumble upon and then apply for the job role.
How Do I Write a Career Aspiration Statement?
It's very important to prepare for an interview ahead of time. Here, we're going to talk about some tips that will help you define your career aspirations before you attend an interview so you've no issues answering such questions in an interview.
Brainstorm
The truth is it isn't always easy to bring up ideas for your short-term or long-term career aspirations when an interview is ongoing. 
That's why it's good to brainstorm ahead of time and pen it down. To make it easy for you, try answering these questions:
What are you good at?

What are your best skills?

List of new skills you would like to learn?

What kind of environments do you thrive the most in?

State your favorite thing about your current or past jobs?

What type of opportunities are you looking for?

What is your definition of a great boss/ leader?
Questions like these will help you define your needs when it comes to your career growth and what to do to achieve them. 
Do Research
You've spent time thinking about your career aspirations, what next? Research. 
You need to educate yourself on the company and the position because you want your goals to be aligned with theirs.
Check out the company's social media pages and websites. Review the company's about page and any other data you find.
This will help you understand their structure and help you decide if truly you can achieve your aspirations there.
Take our free DISC personality assessment to find out the right career for you today!
Compose Your Answers.
Take data from your brainstorming session and pick which goals align with the role you're applying for. 
Then write down your answers. It's best if your answers include both short and long-term goals. 
Don't worry if you don't know how to do this, here's an article with samples.
How to Answer "Where Do You See Yourself In 5 Years?"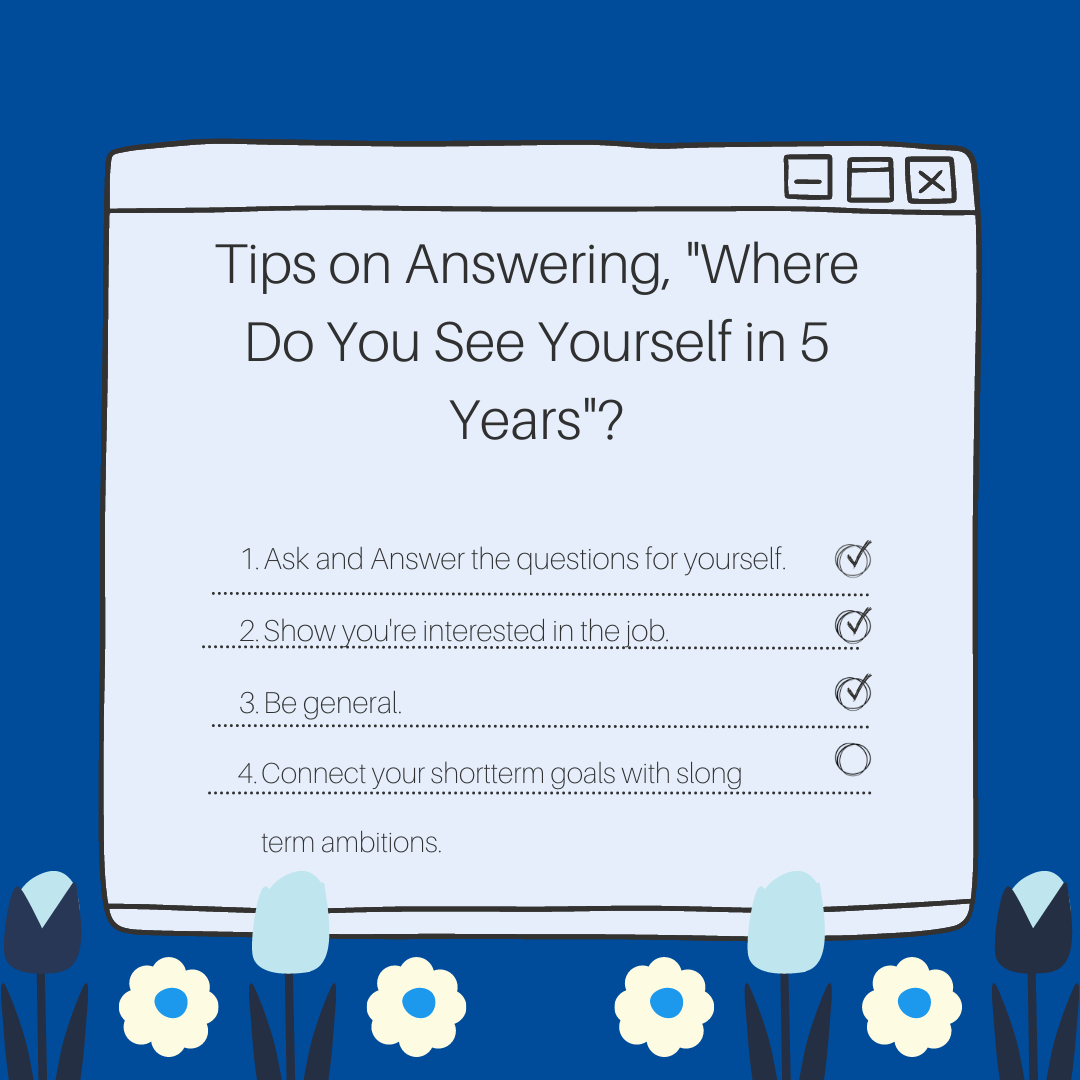 Honestly, the phrase TMI (Too Much Information) was probably formed by an individual who was bombarded with too many questions by an interviewer.
Jokes aside, some of the questions asked by some hiring managers may require you to say too much. Well except if you're well prepared.
An example of these questions is, "where do you see yourself in 5 years?", they may switch it up and instead ask, "what are your short or long term goals"?
It's a tricky question, so you should have your answer prepared beforehand.
Here are a few tips to help you better answer this question:
Ask and answer the question for yourself – For example: Where do I want to end up? What skills do I need to achieve my dream?
This will help you have a better understanding of how to prepare your answers.
Show you are interested in the job – One red flag hiring managers look out for when they ask you about your career aspirations is your level of interest.
For example, if you're applying for the role of a social media manager, your five-year plan should be to be successful in the industry where you currently are even though the title of your job may change.
This way the hiring manager knows you're going to be motivated to understand, grow in the company, and be successful within an industry or a specific skill set.
Be general – Remember we talked about TMI earlier?

Yeah

.. instead of saying I want to be a marketing content lead within 2.5 years, talk about the skills, and experiences you hope to have and the impact you hope to make.

Connect your short-term goals with long-term ambitions.
Getting People Right (GPR) is an educational website providing professionals from all types of businesses with practical education in human resources and leadership. To keep  evolving your leadership toolkit, additional GPR resources below will be useful: