WHAT IS ORGANIZATIONAL DEVELOPMENT?
Organizational development (OD) is a critical and science-based process that helps organizations build their capacity for change and become more effective. It does this by developing, improving and reinforcing the organization's strategies, structures and processes. OD can vary between organizations. However, the one central goals of OD are to increase the organization's competitiveness. Now that we have established what OD is let's look into how it relates to HR? in a nutshell, there is some overlap but also a few significant differences.
RELATION BETWEEN HR AND OD.
SIMILARITIES: Based on business strategy, OD and HR have their roots in business strategy: the organization's mission, values and vision. Also, they both outline the actions needed to implement that strategy in their respective fields.
DIFFERENCES: HRM focuses on people's practices. OD takes more of a holistic approach. And while OD always focuses on strategic themes, HR is often more operational.
OVERLAP: OD practices use many different interventions to achieve their goals, some directly related to the HRM function. HRM intervention for OD includes talent management, human resource management, and diversity interventions. OD has some overlap with HR but many differences too. HR professionals have considerable benefits in developing a better understanding of organizational development. Understanding OD means you can identify which elements of core HR functions must focus on to support the organization in becoming more efficient.
SKILLS FOR AN OD PRACTITIONER.
The skills essential for OD practitioners are strategic planning and thinking. Other skills include data collection and analysis, project management, emotional intelligence, business sense, communication, collaboration, and facilitation. OD practitioners adjust strategies, structures, people, rewards, metrics, and management processes to improve workplace efficiency and productivity. They also identify and resolve an organization's system-related issues that affect engagement, productivity, and performance. OD professionals are good at developing and implementing career development, management, leadership development, performance, and employee retention strategies. Facilitate communication between employees and workgroups.
THE 7 STEPS IN THE ORGANIZATIONAL DEVELOPMENT PROCESS:
1. ENTERING AND CONTRACTING.

The first step starts when a manager or an administrator spots an opportunity for improvement. Common triggers include external changes, internal conflicts, lack of innovation, and loss of profit.
2. DIAGNOSTICS.

The main goal here is to understand how the system currently functions. You can collect relevant information using surveys, interviews, or analyzing your data to identify the root cause of the issue.
3. DATA COLLECTION AND ANALYZING.

Data collection methods you can use here include existing data from work systems, questionnaires, interviews and observations. When collecting data, make sure yourself the below questions: Can you ensure sufficient confidentiality and anonymity? Is your purpose clear?
Are you being affected by observer bias? Are the employees experiencing the Hawthorne effect (is there a change in their behaviour as they are under observation)? 
4. FEEDBACK.

Feedback is when the OD professional needs to give information back to the client, either via presenting their key findings or preparing a detailed report. The information should be relevant, understandable, descriptive, verifiable, significant, and drive action.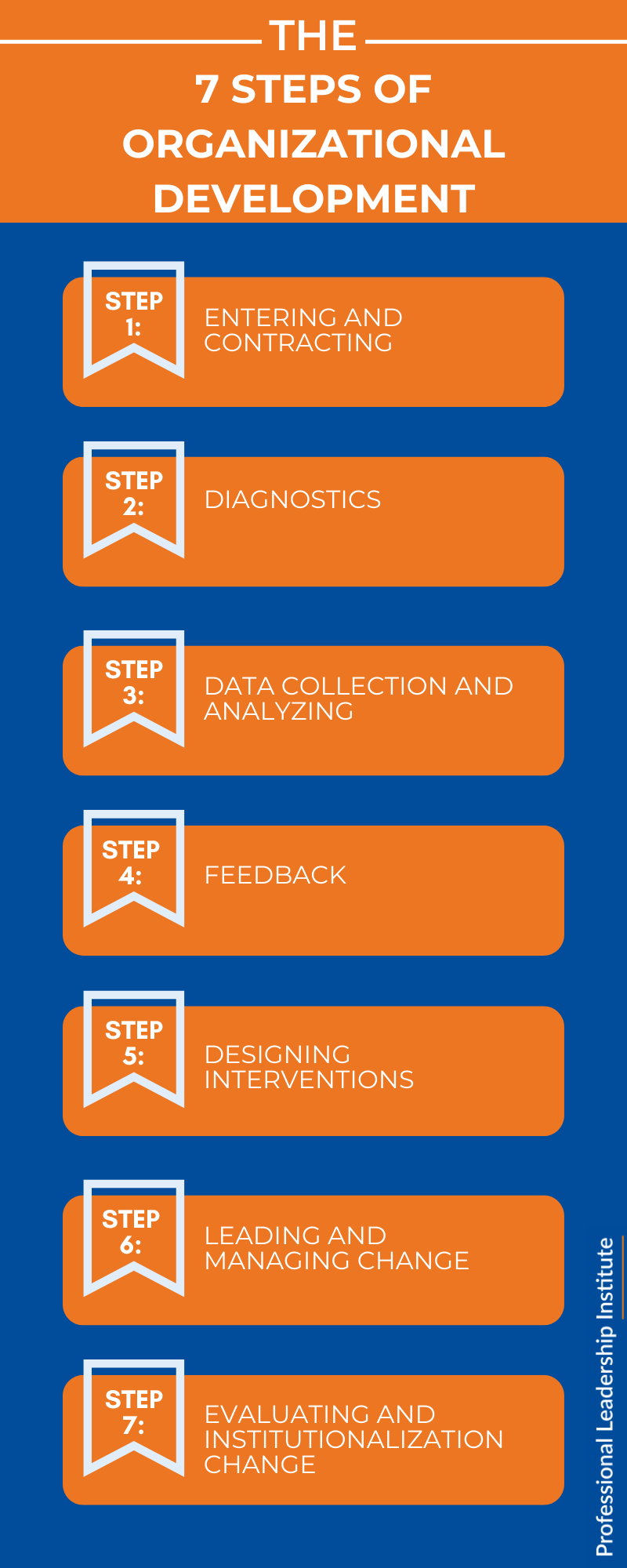 5. DESIGNING INTERVENTIONS.
After gathering data and aligning with stakeholders, it's time to design interventions. To ensure their success, you must ensure that they are based on the organization's needs and potential outcomes. It would be best if you also defined success criteria for change, as that is the only way to measure your progress.
6. LEADING AND MANAGING CHANGE. 
According to Gartner, half of all change initiatives fail, and only 34% are apparent successes. If you want to make sure that your change project is part of that 34%, focus your energy on motivating change, creating a vision, developing support, managing the transition, and sustaining momentum. Try incorporating positive messages into your communications, celebrating successes, or giving people ownership over small wins.
7. EVALUATING AND INSTITUTIONALIZATION CHANGE.
Once you have implemented a new structure and system, you will see opportunities for improvement. Constant and continuous improvement is the key to a better user and employee experience. Additionally, it's essential to assess and evaluate the change. Effective intervention measures success and creates a way to compare the state of affairs before and after implementation. Use data to determine if your program is meeting the success criteria and further identify the changes that occurred upon implementation of your program.
FINAL THOUGHTS.
HR is at its core about people and how best to utilize people for the benefit of an organization. OD is concerned with assisting an organization in implementing a strategy to its peak ability and performance through engagement and optimization of HR. Therefore, you will see that OD knowledge enables improvement within the HR department. And improvements among staff will result in organizational-wide improvements.
RELATED READINGS:
Professional Leadership Institute (PLI) is an educational website providing professionals from all types of businesses with practical education in human resources and leadership. To keep evolving your leadership toolkit, additional PLI resources below will be useful: