What is the NSLS?
The National Society of Leadership and Success (NSLS) is the largest leadership honour society in the United States with over 1 million members across 704 colleges. Their mission is "Building leaders who make a better world" and they achieve this by providing valuable support and resources to its members and society chapter administrators. Students can sign up for an NSLS membership, which provides them with access to resources on their website. Those who want a richer NSLS experience can undergo the process of becoming an inducted member, which opens up exclusive inductee-only benefits.
NSLS members are given access to valuable resources such as leadership development tools, success coaches, and recruitment opportunities. They are also invited to coveted events and leadership speaker series that boast famous names such as Adam Grant and Trevor Noah.
For students entering college, societies such as the NSLS is a great way to build their network by facilitating opportunities to meet students from other schools as well as potential mentors. While there are lots of similar resources available through the university career center and the internet, one of the key benefits of NSLS is that all makes all the resources are available in one place and are vetted for value.
Why sign up for NSLS – Membership Benefits
Joining the NSLS opens the door to many benefits including scholarships, job opportunities, coveted speaker series, networking events, professional development training, and mentorship. All these benefits work to support ambitious student achieve their career goals. Students receive tremendous personal growth experiences in the form of leadership and communication skills development and professional network growth.
Additionally, the NSLS can act as a support group for students who are going through their first job search, which can be a very difficult and nerve-racking time. Knowing that there is a group that they can reach out to helps build confidence.
It also serves as a differentiator and talking point that can set a student apart when interviewing for a job. Employers see the time and commitment the student has taken to be inducted and recognize the discipline that this requires.
While similar resources are available through college career management centers and online, piecing together all the relevant information can be time-consuming. Also, new students may not know where to find such resources, let alone how to make the most of such resources for their career development. The NSLS addresses this by providing guided programming that coaches a student through the early career stages.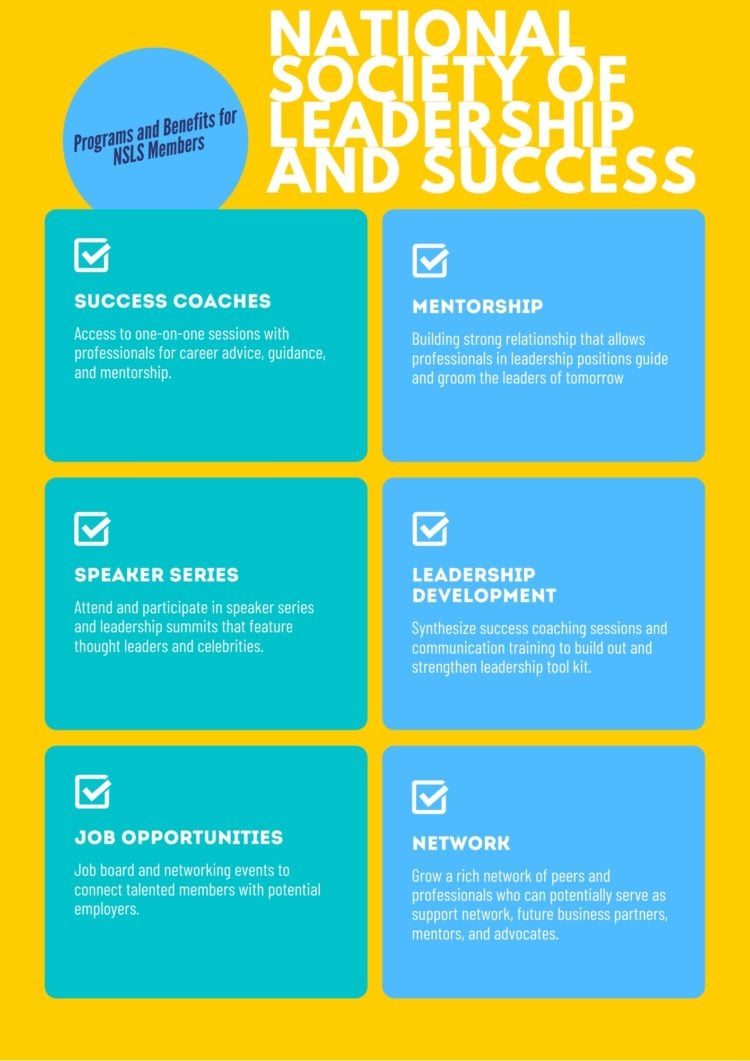 Example of NSLS Programs
Asides from networking events and a job postings board, the most valuable member benefits of the NSLS come from its programs. Corporations pay top dollar to put rising stars into leadership development programs in hopes that they will find successors for key leadership roles. Providing these programs to members offers tremendous value; students gain exposure to core leadership principles and can practice these leadership muscles well in advance of their first management role. This leads to higher success in the member and a stronger candidate pool for employers.
Success coaches provide one-on-one interaction with a professional and allow members to refine their communication skills, develop their goals, and access valuable mentorship. The Professional Communication Training provides a regimented approach in identifying the student's communication style, bringing awareness to other communication styles, and learning how to become an effective, persuasive communicator. These programs offer concrete tools for navigating a workplace, which will help breed confidence in the member.
How To Get Inducted Into the program
Students who want to maximize their NSLS experience can go through the induction process. By doing so, they gain access to exclusive benefits that are only available to inducted members.
To become inducted into the NSLS, a student must first be nominated by their school. If their campus does not have an NSLS chapter they can self-nominate through the website. To qualify for nomination, students must hold a 3.0 GPA and receive a recommendation from at least one faculty member (three is recommended). Upon submission, students pay a $95 membership fee, which provides them access to member benefits and starts their NSLS induction path.
From there, students will complete a series of programs and activities that include orientation, leadership training, speaker broadcasts, and success networking teams. Once completed, the students will be inducted through their campus NSLS chapter.
The time it takes to complete all requirements for induction depends on the student. The estimated cumulative time is 12 hours; on average it takes a student approximately one semester to complete all the steps.
History/ Origin Story
The NSLS was founded by Gary Tuerack in 2001 with the goal of helping everyone achieve their dreams. Tuerack was considered a late bloomer in his academics, having struggled with reading early on. To overcome these challenges, he sought strategies to help him address his reading, concentration, and memory. This proactive, positive attitude led Tuerack to an Ivy League education at Cornell University, an audacious goal for someone who began their academic career as a slow reader. Tuerack's ability to overcome such an enormous challenge is what drove him to start the NSLS.